Our advanced computer and internal check is the next level of analysis that ensures AAMCO Houston, TX technicians will only fix what needs fixing. Many transmission problems start in the computer system of today's highly technical, computer-controlled vehicles - your transmission receives the wrong signals from your vehicle's computer system. The AAMCO Computer and Internal Check Service is performed to determine if an electronic component is affecting your transmission's shifting or overall performance and includes:
Using a computer system scanner to retrieve any trouble codes and to determine the probable cause. All critical computer systems in the vehicle are checked for trouble codes because a variety of systems could cause driveability issues.
Reviewing the computer system data against our proprietary AAMCO technical database - the most extensive transmission computer indication source available anywhere.
Connecting the AAMCO Kwiktest PlusBox to see whether the problem is inside or outside of the transmission in the computer system.
Your certified AAMCO Houston, TX technician will also:
Check the electronic components
Check the solenoids and sensors
Check the wiring that affects the transmission, solenoids and sensors
Your AAMCO Houston, TX certified technician can then determine if an electronic component or part needs to be replaced and make a recommendation for whatever service is necessary. It is our comprehensive analytic approach that sets AAMCO apart, so that you only get the repairs you need and your car, truck or SUV is back on the road as soon as possible.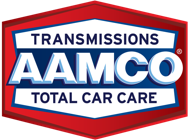 Locally owned and operated

OUR ADDRESS
9584 Fm 1960 West, Houston, TX 77070
View Map
hours
Monday - Friday | 08:00 AM - 06:00 PM
Saturday | By Appointment
Sunday | Closed
SCHEDULE APPOINTMENT