You've known the name AAMCO for more than 50 years. You know our slogan: "Double A (beep-beep) M-C-O" and we didn't become the world's most recognized transmission expert by mistake. We know transmissions and if the time comes when you need transmission service, no one does it better than your local AAMCO expert technicians.
If our Initial Vehicle Check analysis calls for service, you can be sure it'll be done right with AAMCO Houston, TX. Perhaps your drivability problem can be solved with only a Fluid Change Service and our Initial Vehicle Check will help determine that for you.
Reseal Service
Perhaps your vehicle's only problem is that your transmission is not retaining fluid, with no other drivability problems. You may only need our AAMCO Reseal Service.
The AAMCO Reseal Service for a transmission includes:
Removal of your transmission from your vehicle and disassembly sufficient to perform the service.
Replacement of all external seals and select components by expert AAMCO technicians to correct the fluid retention problem.

The transmission is reinstalled, the fluid is refilled to the full level with fresh, clean transmission fluid, and any external adjustments are made as required. Your vehicle is then road tested to ensure the transmission is functioning properly and your car, truck or SUV is ready to take you anywhere you need to go.
Transmission Service
Our signature transmission rebuild service makes all the difference and gives us the confidence to offer you the best nationwide warranty in the business. Whether you drive a car, truck, or SUV, manual or automatic transmission, foreign or domestic, luxury or economy, we know your transmission.
Manual Transmission Clutch Service
Our Transmission Initial Vehicle Check may find your problem is only with your clutch and cannot be corrected by external adjustments.
Your certified AAMCO expert technician will then:
Remove your vehicle's transmission
Examine the clutch disc, pressure plate, flywheel, and related components
Replace any required worn or damaged components to meet AAMCO's exacting standards and restore clutch performance.
Reinstall the transmission
Check the transmission fluid and top off if necessary
Perform a lift check to ensure proper clutch installation and adjustment

Your vehicle is then road-tested to ensure proper transmission and clutch performance and your car, truck or SUV will be ready to go for many miles to come.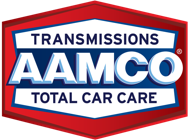 Locally owned and operated

OUR ADDRESS
9584 Fm 1960 West, Houston, TX 77070
View Map
hours
Monday - Friday | 08:00 AM - 06:00 PM
Saturday | By Appointment
Sunday | Closed
SCHEDULE APPOINTMENT